Logistic and Retail Solutions
| | |
| --- | --- |
| | TechRider has built a "Logistics Support Model" blue print and constructs the software solutions accordingly. The solutions cover from inbound logistic support, warehouse management, Inventory control, sales, packing and to outbound logistic support. TechRider uses the model to evaluate and choose appropriate technologies to implement application modules. |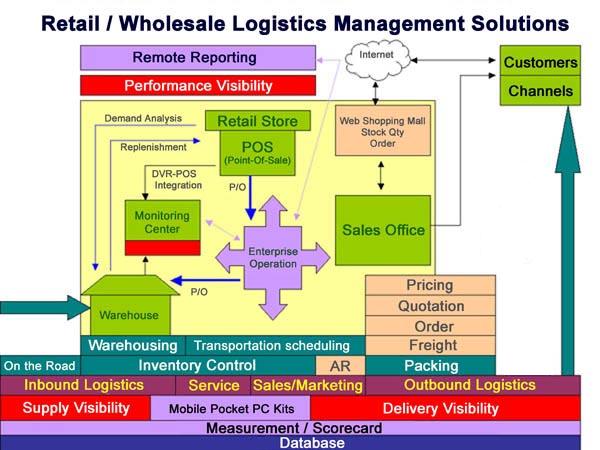 Inbound Logistic
Our solutions increase the visibility of the goods flow, including supply, on the road, warehousing and inventory. When you can see it, you are in a better position to manage it, make improvement and keep leading edge.
Outbound Logistics
TechRider applies Barcode technology and portable scanner to increase the tracking capability of delivery. RFID will be implemented when it becomes more popular in the future. Our solutions may help you to track the orders, packages, trucks and deliveries.
Enterprise Integration
TechRider provides "Enterprise Operation" Module to integrate the "Logistics Support Model". It is not only integrated the inbound logistic to outbound logistic but also integrate with the warehouse, head office, sales office and branch store. Through the "Mobile Remote Reporting", it provides the reports access anytime for monitoring business operation and performance.
POS system and DVR integration
Our advanced POS (Point-Of-Sale) system supports the operation of you retail branches. Our POS system is capable to integrate with DVR surveillance system. You can monitor the check out counter operations from your monitoring center.
For the details of TechRider Logistic Support solutions, please contact our sales professional or visit our office.